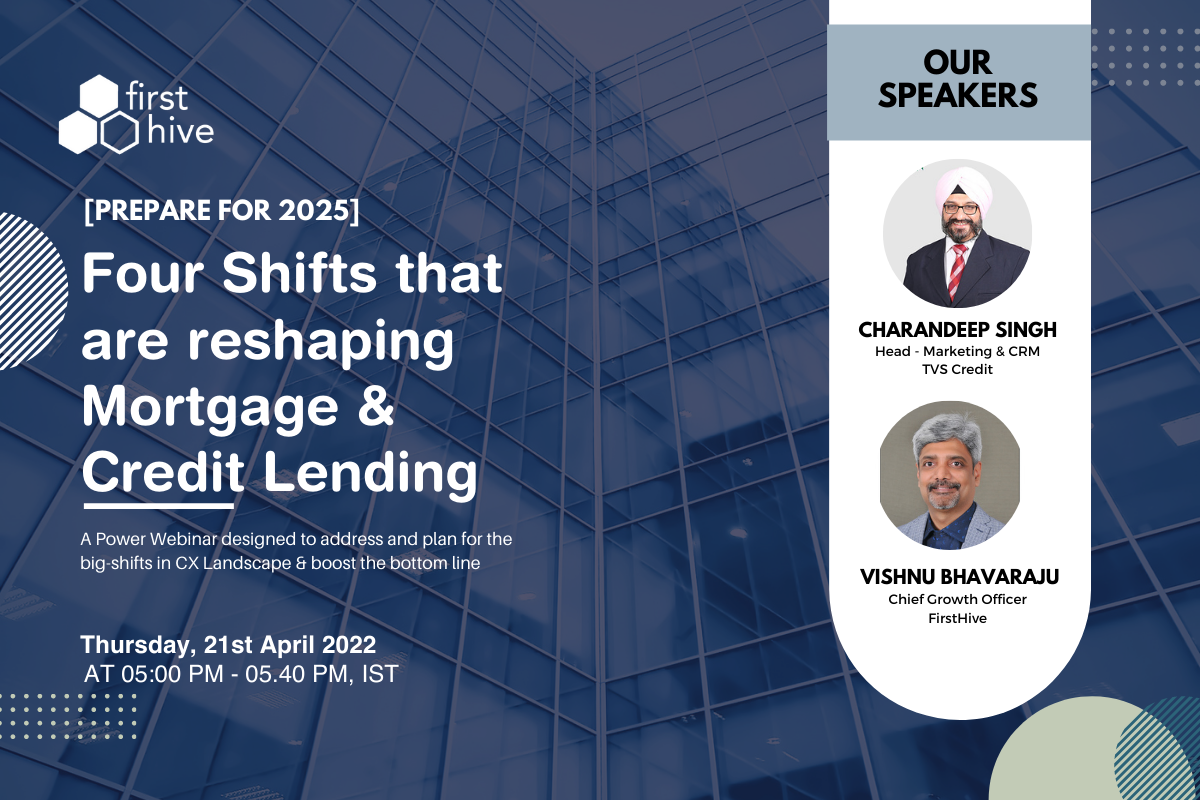 SIGN UP NOW!
21st April | Thursday, 5:00 PM – 5:40 PM.
[Prepare for 2025] Four shifts that are reshaping Mortgage and Credit lending.
Don't leave any relevant account holder or lendee untouched with Advanced Segmentation, Multi-channel integrated marketing, Customer Experience, and Use of right customer-led technology.
In this session, unravel with our Industry Expert, Charandeep Singh, TVS Credit
On satisfying tech-savvy customers and boosting the bottom line
Laying the foundation for integrated channels and fulfillment processes
Integrated Multichannel Strategy for Retail banks, mortgage and insurance companies
Leveraging laser-sharp targeting and segmentation based on real-time lendee and account holder data.
Charandeep Singh Chawla
Head – Marketing, Digital & CRM, TVS Credit
Charandeep Singh heads Marketing and CRM function at TVS Credit. He is an Agricultural Engineer from Punjab Agricultural University and an MBA graduate in Marketing from Narsee Monjee Institute of Management Studies, Mumbai. With over 15 years of experience in marketing, sales, CRM, and strategy across BFSI and automotive companies, he has led various initiatives in brand communication, market research, digital business, analytics, and customer relationship management. He has been at the helm of several transformational initiatives, including the development of corporate websites and mobile apps, and several award-winning brand campaigns. He has also successfully executed programs to enhance customer experience and engagement. He has been instrumental in developing the new brand identity for TVS Credit leading to a new visual identity system and repositioning for the brand in line with changing business requirements. Under his leadership, the organisation has won several accolades for various marketing campaigns, such as the prestigious RMAI Flame Awards Asia 2018 for The Best Visibility and Visual Campaign of the Year. He was also named APAC's Top content mogul for the year 2020 by CMS – Asia, Top 100 Digital Marketers by Adobe Digi100 for the year 2018, and Top 50 Content Marketing Leaders by LinkedIn for the year 2018. In addition, during his stint at MMFSL, he won the Youth Achiever of the Year at the Rural Marketing Awards 2017.
Vishnu Bhavaraju
Chief Growth Officer, FirstHive
At FirstHive, Vishnu is the Chief Growth Officer and is responsible for driving revenue growth and company success via customer acquisition & activation, sales optimization, customer retention and referral in the funnel. Vishnu Bhavaraju brings with him an experience of 21+ years across various consulting and sales leadership roles. Prior to joining FirstHive, Vishnu served as 'Director-Industry Solutions' at Microsoft India Private Limited. During the course of his career Vishnu worked with MNCs such as Oracle, EMC and TCS. Vishnu holds Masters in Computer Applications from Andhra University and an Executive MBA from IIM Bangalore.